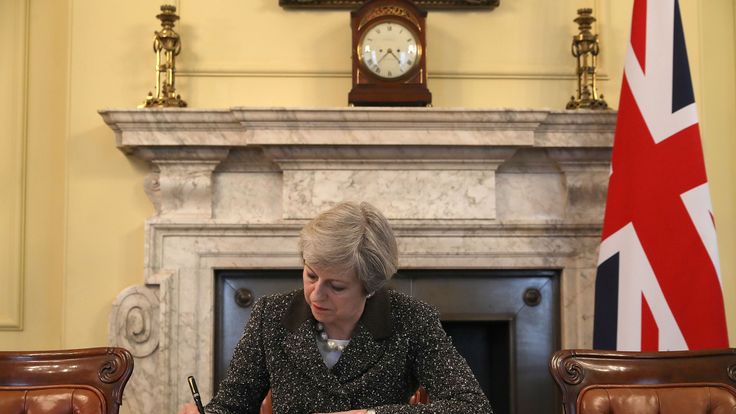 Theresa May signs article 50.   Photo credit: Reuters
Tough lady Theresa May has signed article 50 and we can report it is a hard Brexit. Britain will still have to pay 60 billion Euros to the European Umion for "divorce fees". At the moment, the UK treasury is reportedly "not in a good position" to pay such a huge amount according to political pundits but Minister David Davies will be negotiating to cut the divorce bill by half or to ask the EU to let Britain pay the money in instalments.
Theresa May has signed the article 50 document which is rumoured to be 8 pages long and it will be carried to the EU ambassorder with heavy security. The EU ambassodor will also under tight security hand deliver it to the President of the European Union.
In otherwords, there is a virtually no possibility of the artice 50 letter getting "lost in the post" as some people were speculating.
This has been a hard Brexit. It will change Britain forever- the economy, society, culture and general outlook. Brexit is a turning point for Britain.
We therefore ask our readers to comment and share this article. Please let us know what you make of this whole Brexit saga.